Animal Success Stories
Click a letter to find an animal or
view all
.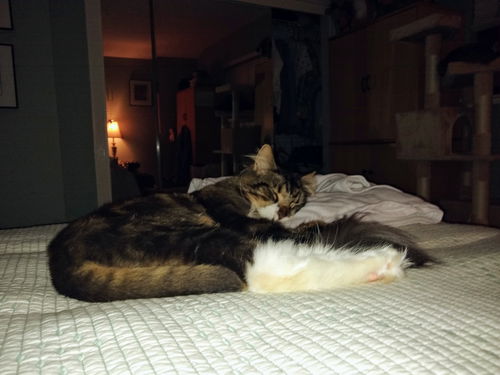 CA - Hadley (MCR)
Hadley was my first foster through Maine Coon Rescue. He came from a breeder who was unable to care for him. Hadley seemed to have had a traumatic first experience with the world. He didn't know how to be a cat. For example, he didn't know how to groom. He tried, but he'd end up soaking portions of himself and then leaving the entire other portions completely dry. We started calling them chaos baths. Also, for Hadley, almost everything was new, and new was scary. He spent the first several weeks in our extra room hidden among my husband's guitars. We'd see his big, round eyes, and then he'd slowly shrink back into the shadows.
After a few weeks, he started to come out of hiding and then slowly started interacting with us. My husband was the first person he connected with, then our kids, and then me. Our Maine Coon, Maru, was also a huge help to Hadley, and they became fast friends. Hadley learned how to be a cat and a human companion from Maru. He watched Maru and copied whatever Maru did. Hadley's chaos baths became less and less chaotic. Soon, Maru and Hadley were playing with and bathing each other. They became like brothers. It is sweet to see how much they care about each other, and it's rewarding to watch Hadley learn from and play with Maru. They can be bumbling and goofy at times, so bring a lot of laughter into the house. Hadley is truly a gentle giant. He's about 18 pounds and is still growing. He's tall and long and has a massive head. We refer to him as the house tiger.
I felt very special when Hadley finally connected with me. I remember peeking into the pet carrier at the airport when I first picked Hadley up, seeing a humongous cat head with the most vulnerable eyes. I felt an overwhelming urge to hold him close and make him feel safe, but I knew it would just scare him. If I'm honest, I remember thinking that he'd already stolen my heart.
Hadley and Maru continued to build their brotherly relationship, and Hadley continued to become closer to us. New things were still very scary to him, though. We realized how far Hadley had come and how safe he felt, likely for the first time in his life. We also realized how much we loved Hadley. We could not bring ourselves to put him through another experience of having to get used to new things, of being scared again. We realized we knew Hadley was home the moment he came through our door. So, we made it official at the end of 2021—a very special holiday gift to the family.

Kindly,
Lisa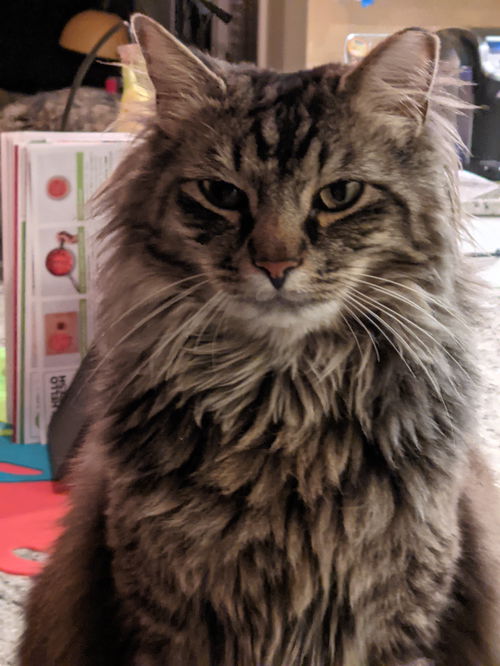 OH-Orion (MCR) (Now Muffin)

I had signed up with Adopt-a-Pet to get notifications for Maine Coons in 2020 when our 18-year-old cat passed, leaving behind a 10-year-old stray. If Maine Coon characteristics were true, this breed would provide a better chance of accepting and warming up to my husband. Most of our previous rescues have been skeptical of men in general and he loves cats as much as I do. On 6/10/21 I received an email with pictures of nearby MC cats that met my criteria, any age and female. I inquired about the female and went through MCR's application process. After being interviewed, I was advised that the female had a bonded male sibling and they needed to be adopted together. I was concerned about adopting another male but was assured that his foster history contained no adverse habits. It only took a visit to their foster mom to see and know we wanted both of them. They arrived at their forever home on 6/23/21. Muffin (aka Orion) and Finny (aka Lyra/Finti) are two-year-old identical delights! Finny is cautious but loving and Muffin is curious and into everything. Finny prefers female humans (especially when I'm in the bathroom) but Muffin watches TV with my husband and they are never very far from each other. They've also become Camper Cats who saw the mountains of West Virginia and portions of Lake Erie this summer. We appreciate how Maine Coon Rescue answered all our questions truthfully and had a thorough application process, including contact after the cats were adopted. In our case, two Maine Coon cats ARE better than one!

Kay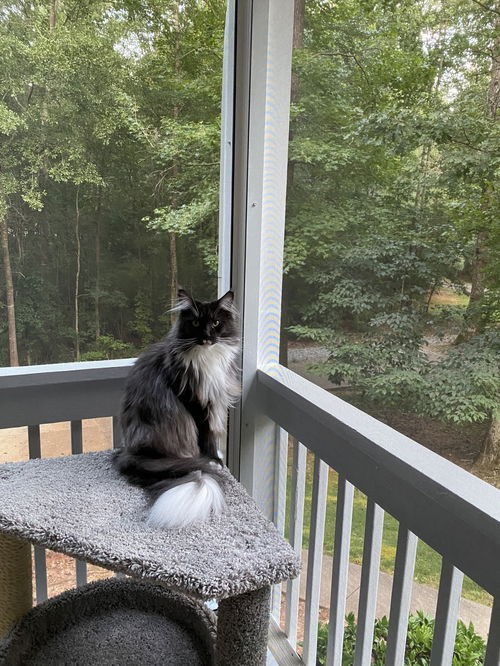 GA-Smokey Joe Forrest (MCR)
Smokey Joe is our second rescue from Maine Coon Rescue. After having Bella for a year and a half, we really wanted to have another cat. We felt like Bella would benefit from a pal, and we had room in our hearts for another baby that needed a loving home. We began watching the Maine Coon Rescue site and found a kitten we were interested in. She was listed as a foster in Snellville. We knew instantly that it had to be Bella's foster mom. Once we contacted Cheryl, she told us about Smokey Joe and sent us a picture. We fell instantly in love! I have wanted a pure-bred Maine Coon for years, and this baby needed a home! He and his six siblings came from a hoarding situation, had little to no care, and needed a home where he could feel safe and loved. Less than a month later, Smokey Joe came to his forever home. He has been with us a year, and there have been challenges; he had trust issues and Bella was not thrilled with her "brother." He was terrified the first few months, and we determined that he had had little to no exposure to human contact. Over the course of this first year, he has blossomed! Smokey Joe has learned to play, which he did not know how to do when he first came home. He loves food! He now displays all the traits of a normal cat. Gaining his trust and affection has been one of the most rewarding experiences of my life! We cannot imagine our own lives without this precious boy!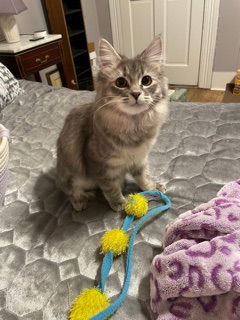 WV - Napa (MCR)
I don't even know where to begin. I had been searching for a young Maine Coon mix for quite a while. I wasn't searching for any particular color, and male or female didn't matter. I just wanted a kitten to love. I posted on my Facebook page, and someone shared a link with me for MCR. My life changed that day. I messaged the rescue, and they directed me to the application process. A short time later, I was told about a bonded pair of kittens about a year old. As soon as I saw them, I knew I had to have them! I never intended to have 2 kittens, but they were just so perfect. After speaking with their foster, Nina, I found that these 2 could not be more different although they look almost identical. Sonoma is very shy, while Napa is the outgoing one of the 2. Napa quickly came out of her shell and showed me the love bug she really is. It took some time for Sonoma. In fact, she hid from me under the stairs for 2 whole days. I was beside myself with worry. When I finally got her out (and had the steps enclosed), she started to become much more affectionate and comfortable around me. She also learned to quickly trust my husband, which really shocked me. The funny thing is, my husband is allergic to cats and has been taking allergy medicine so he can interact with and love them too. :) Since I adopted them in March, they have really grown. Sonoma is the chunkier of the 2. She is almost 10 lbs., and Napa is around 7 lbs. Sonoma still isn't too trusting of many people. Only me, my husband, and my daughter can hold her. She still hides from everyone else. However, where I am concerned, she wants all my attention. It wasn't always like that. At first, she wouldn't even climb up on the bed with me, and Napa would steal all my attention every night. Now, it's a fight to who can get there first, and Napa gets jealous and pouts. She will either jump down and lay there staring daggers at her sister, or she will just lay there looking sad. It's actually adorable. They are constantly fighting for my lap all day when I work. They are not the greatest assistants, but I wouldn't change it for the world. All in all, they have completed my life. They are the best companions. I love them so much, and I wouldn't trade them for the world. Thank you, Brittany, Chea, and Nina for all you did for me and for my babies before I got them. I wish I could remember who referred me to you so I could thank them as well.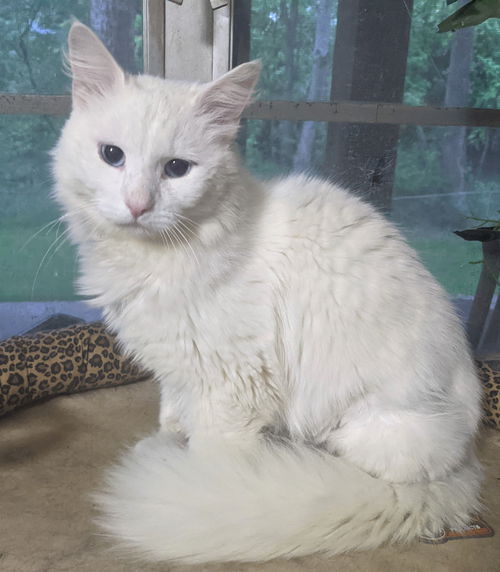 WV - Whitey (MCR)

What can I say about Whitey/Ares( yes, named after the god of War) he is wonderful!. I searched for some time to find a new kitty and went through several rescues but none seemed to be the right fit. After making a mistake on paperwork for Maine Coon Rescue I was contacted by Brittany. After completing the adoption application I was then contacted by Alyssa. We had several lovely conversations about Whitey(Ares) and what I needed to do. The next step was speaking to Jennifer, his foster Mom. Again I had several wonderful conversations. After I was approved for adoption my Mom, Niece, and I drove to Maryland to get him and meet Jennifer at the designated meeting point. It was a very emotional moment for all.
Ares now resides in northwest NJ (country area of the state) in a house shared with Annie, our dog(also a rescue). He has adjusted very well except for one hiccup. Seems as though he was never exposed to a dog. Or if he was it was in a negative way. At this time we are working on getting him used to sharing a residence with Annie. It will be a slow process but we will get there. Other than that Ares enjoys lounging in his cat tree(as in his picture), playing with a laser light and other toys, has become a fan of brushings, and most of all being by my side. He constantly follows me around the house and when I am sitting has his head on my foot or lays on my lap or chest. He is very smart and learns quickly and is very curious. Mom says he is like Sherlock Holmes. Since he is an inside-only kitty but wants to go out he has adjusted very well to a Come with Me Kitty Harness. We have taken several short walks around the yard which he enjoys quite a bit. Oh, one last thing. He actually picked his name. I was looking at names on my computer and when the cursor landed on Ares he jumped up on the desk and hit my hand with his paw. I said, "Ok buddy you got it"! Ares is truly a joy and I am so glad he is here to stay.
Click a letter to find an animal or
view all
.