Animal Success Stories
Click a letter to find an animal or
view all
.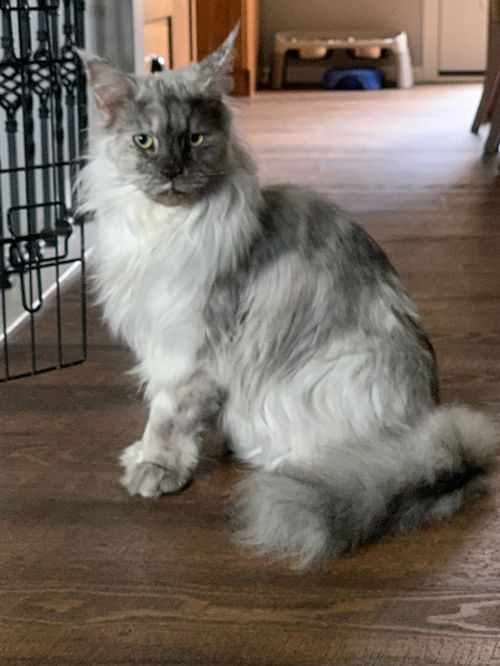 MD - Isis (MCR)
Isis becomes Katya
We saw her photo on Facebook and fell in love with this gargoyle, this feline scary looking monster, this angelic wonderful silver-grey "Euro Coon". She had traveled all the way from the Ukraine to live with somebody that did not love her and she was now looking for a forever home with somebody to love and understand her. Not only were we enchanted by her looks we were lucky enough to be selected by the Maine Coon Rescue personnel to share her life.
On arriving home with Isis – now to be known as Katya – in December 2021, we discovered this large monster of a cat was timid and scared of our three other rescue cats (two Siamese and one Siberian) and was very concerned if you tried to pet her or show any sign of wanting to pick her up or even interact with her……at first!!! Now you need to understand we are no novices in homing rescue cats and after months of caring for her, giving her space, tempting her with GREAT toys and good quality wet food (she had to have all her teeth removed) she has turned into a wonderful cat. Her eyes now look at you with what appears to be a deep intellect and she has started to understand she is safe, she is at home, she is at ease, in short, she has now settled. Katya now plays with our other cats, racing around the house…although with such fluffy feet she has problems corning at speed on our hardwood floors and occasional has a "spill". We all laugh and she is up and off again at speed…..having fun as a cat should do with her forever home siblings. When things get rough she stands upright and wraps her front legs around whatever cat (usually our flame Siamese) and hugs them…..things suddenly go quiet!!!
Katya requires constant grooming but does not like to be groomed, oh what fun we have!! There are occasions we get "hair knots" and these have to be shaved out, even more fun, but she is learning that we mean no harm, so maybe she will be at ease with this process after a few more …..years LOL.
After living with Katya for nearly a year we have really started to understand her ways and she ours and our other cats. Living with a Euro Coon has been an experience, one that we would not change, and would love a second one like her……maybe soon we hope!!!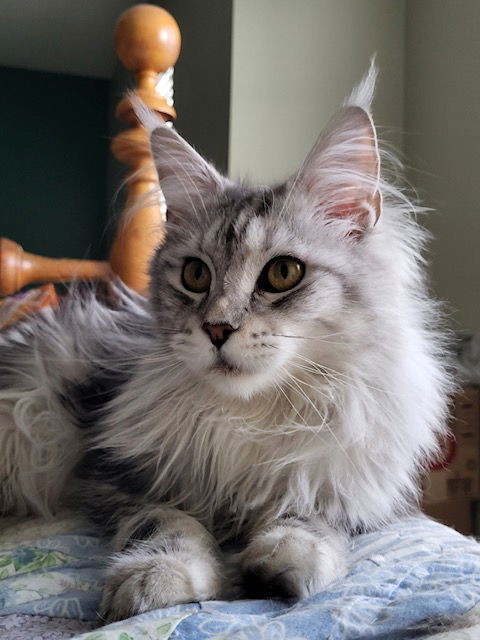 OH- Frank (MCR)
Working with Maine Coon rescue, many beautiful cats come in. When I saw the picture of Merlin (Formerly Frank), I felt a tug on my heart. His foster mom Susan realized he was not in the best of health and it took several months of unbelievable patience and love, but Susan got him to a place where I was able to adopt. He will be on medication for the rest of his life, but who is without issues? Lol
In early October my husband and I met with Susan to pick up Merlin. I have 2 other cats and was unsure of how Merlin would fit into my mix. At 1st neither cat wanted anything to do with him. Then my big boy King Arthur decided to give him a chance and now they like to lay in the sunspots together and they eat all of their meals together side by side.
Merlin's favorite pastime is seeing who he can trip up by laying on my stairs (which he blends in with). Merlin is a complete love bug and we are so happy to be able to welcome him into our home.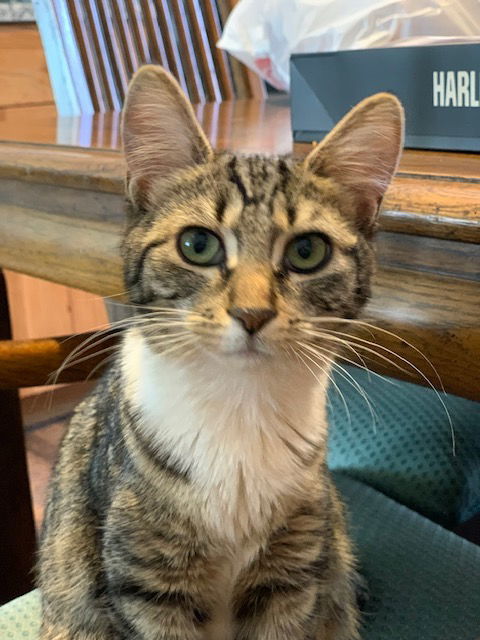 MD - Snickers-(MCR)
Hello, My name is Dee. My husband and I adopted a little girl kitty from Maine Coon Rescue named "Snickers " back in early March of this year. Though she is not a Maine Coon, she is beautiful, and a big girl! She is very special in her own way.
First of all, we sadly had to change her name. Because I kept calling her Skittles, and I thought she was confused enough coming to a new environment, we just call her Penelope. As far from any candy can be. She took to it quickly and she took to us just as fast!
Penelope has grown, both in size and personality! She is our joy! We love to dote on our girl! She has her own room upstairs but has taken to our finished basement and she hangs out there for naps. At night, you'll find her sleeping with us. She loves making biscuits on Mom and getting the full rub down from Dad. Penelope completes us! We are so happy that we contacted Maine Coon Rescue and found our forever family member ❤️.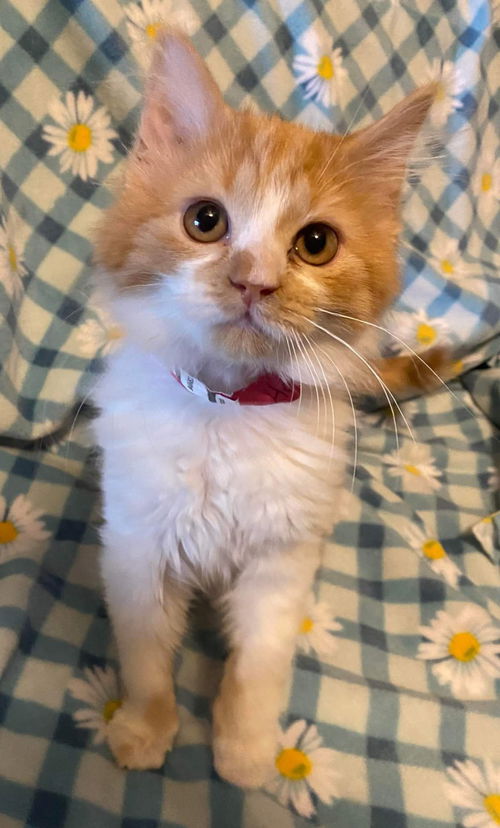 WV - Honey (MCR)
Bailey (Honey) came into our lives at four months of age. She had been sick but was doing better and eating well. Took her to our vet the day after we picked her up from her foster mom and Bailey got a thumbs-up. She had zero problems adjusting to her new home and siblings (five other cats). She played happily with her toys and was running and jumping like a normal, healthy, happy kitten. Bailey has brought such joy to our lives. She is the friendliest cat and just loves giving kisses to everyone she meets. No strangers to her. Bailey is 14 months today and barely fits in her cat trees. I guess Santa will have to bring her a larger one. We can't imagine life without her. We are grateful to Maine Coon Rescue for finding our girl and selecting our family to be her forever one. Thank you.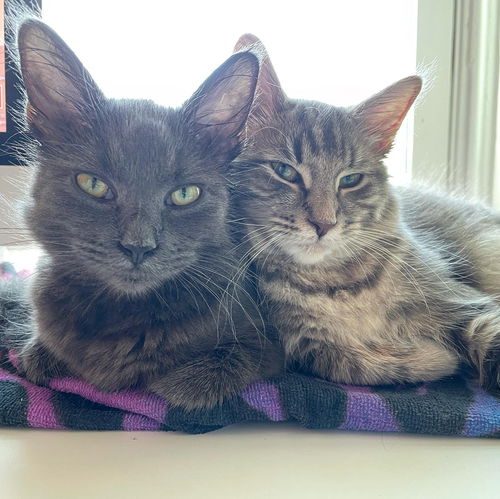 MD - Laney (MCR) (bonded pair)
Mocha and Mochi came into our lives through Maine Coon Rescue in November of 2021. They were Laney & Louise with MCR. We were heartbroken as we had had to say goodbye to our previous kitty and fell in love with their picture on the Maine Coon Rescue site. They were a bonded pair, which was perfect for us as we wanted to get at least two. MCR was very thorough in their screening process, but they made it all so easy and were very knowledgeable and helpful with getting all our questions answered. After speaking with their foster mom and learning more about them we couldn't wait to bring them home!
Now, they spend all day playing, lounging around in their many windows watching the birds and squirrels, and keeping an eye on their people. Since both of their people work remotely, they are great company and help to type emails on occasion. Mocha's favorite toy is a stuffed green bean and Mochi will spend all day playing fetch with her small fluffy balls if you let her. They love being together and can often be found snuggled together in a window -- when they aren't chasing each other around the house! These girls have filled our lives and house with love and joy, and we couldn't imagine life without them! We are forever grateful to Maine Coon Rescue and the work they did in bringing us together!
Click a letter to find an animal or
view all
.