Animal Success Stories
Click a letter to find an animal or
view all
.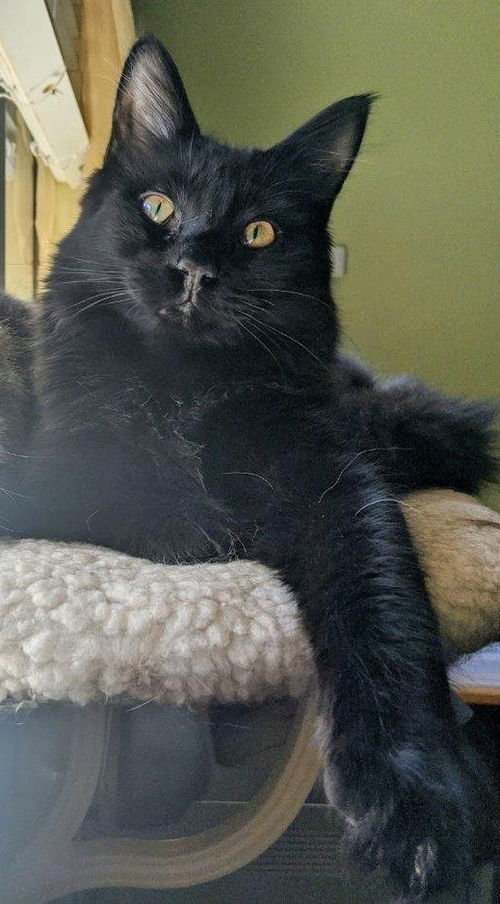 CA - Tempy (MCR)
We had a long friendship with our last Maine Coon, Koyaani though we adopted her as an adult. Her name meant "life out of balance" in Hopi, and indeed she had been homed and rehomed many times. She was, in the words of her foster, the reincarnation of film star Mae West. She came to us with some serious health issues, and we nursed her back to health over time, got her off of some of her meds with modifications to the home environment (air filtration system, safe spaces to chill and de-stress, and were utterly shattered emotionally when she passed of chronic cardiopulmonary disease during the apex of COVID lockdown. Our local Maine coon rescue also shut down as Elaine Nojima finally retired and Maine coon adoptions in Oakland were taken over by Cat Town.
It had been over a year, and we weren't sure we were ready emotionally. As with all things, our home was ready to accept, but our hearts were still mending. We had another young rescue, Carrot, that we had rescued from a dumpster in Watkins Glen NY, and she was used to having a companion with her to play.
More or less by coincidence while on Facebook, I saw a post from a rescue org that I had joined of this cute little floof with the longest tail I had ever seen. I have always had a soft spot for black cats, especially knowing that some folks won't adopt them for superstition. In a whirlwind of events, we loaded up the cat and adopted "Tempy" which was short for temporary. She had been named after various witchy names, and we settled on a suitable name of Kiki, the benevolent witch from Hayao Miyaz6ake's Kiki's delivery service.
She can, when she feels like it, shake my hand, stand up, and she frequently visits my lap when I am seeing patients from home. Sometimes I think they keep coming back for her and not for me! She and her housemate Carrot enjoy watching birds and squirrels out of our window together, and they play hide and seek, taking turns to hide and find one another. When we bought our first house, we basically selected one built like an enormous cat castle, so it has been a heartwarming adventure.
Kiki did grow into her tail, though it is still extra fluffy. She truly is a magical being.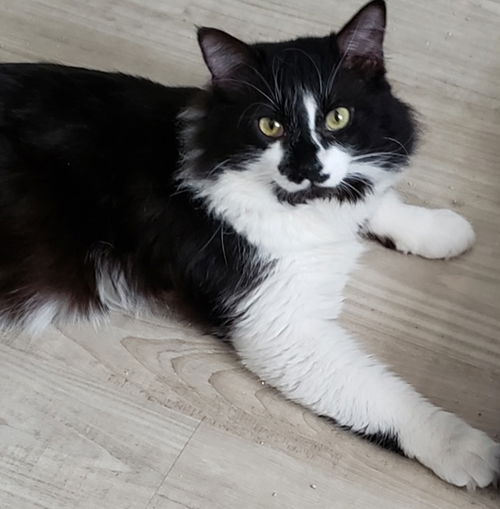 GA- Patches (MCR)
Patches (also known as Egg) has fit wonderfully into our home from day one. His confident good nature, silly noises, and cuddly fluffiness brighten the day. He enjoys spending time curled up in one of many soft and cozy places with his brother, Ollie the dog, searching for tasty treats, and bounding up and down the hall. It's always great to be greeted at the front door when coming home by his friendly "mehweh!" and some tail hugs. Thank you to Maine Coon Rescue (and to Patches!) for adding joy to our lives.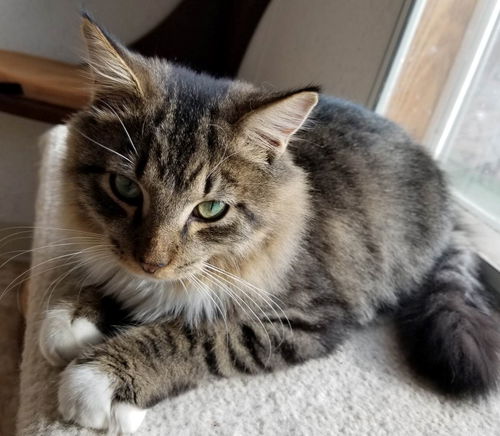 WV - Jimmy Jingles (MCR)
Furgus aka Jimmy Jingles
Furgus joined our family in December of last year, a rescue from Pocahontas, West Virginia. Furgus shares our homes in Huntersville, North Carolina, and central New York, traveling to the east coast with us regularly via a car during an 11-to-12-hour drive.
When we first brought Furgus home, he joyfully jumped between the loveseat and couch, letting us love on him for hours. We are convinced he is part Ninja, as he is constantly jumping out at us from behind couches, curtains, and doorways. He does yoga with me, pulling himself along the underside of the bed on his back…stinking adorable.
Furgus came just at the right time for us, as we lost our beloved Maine coon Chewy a month later. Furgus softened the blow of that loss with his loving and playful nature. He has a true Maine coon personality and is a beautiful boy. If you don't believe us, just check out the 2023 Maine coon Rescue calendar, where Furgus will be one of the twelve cats featured.
We cannot encourage you enough to help Maine coon Rescue by giving them a gift to help secure these wonderful cats a loving home.
Susan, Richard, and Furgus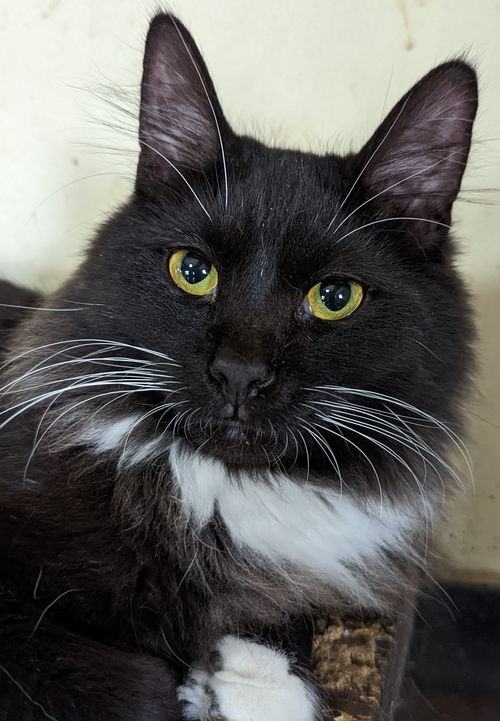 WV - Gabriel fka Geoffrey (MCR)
Gabriel was adopted on May 6th, 2022. That is the day I picked him up.
Gabriel is a wonderful boy! Playful, and sweet. A wonderful companion to Ares (who I also adopted from you. His name was Whitey). Both Ares and Gabriel are very bonded and are best friends to each other and myself. Gabe and Ares literally play all day with breaks for some food and nap time. Gabriel is currently getting used to a harness so he can go for walks with Ares and I outside. Gabriel has grown into a very handsome adult. I adopted him when he was 6 months old and now, he is over 1 year and weighs 10 lbs. They both eat healthy quality food with no kibble in their diet. Thanks for bringing him into our lives.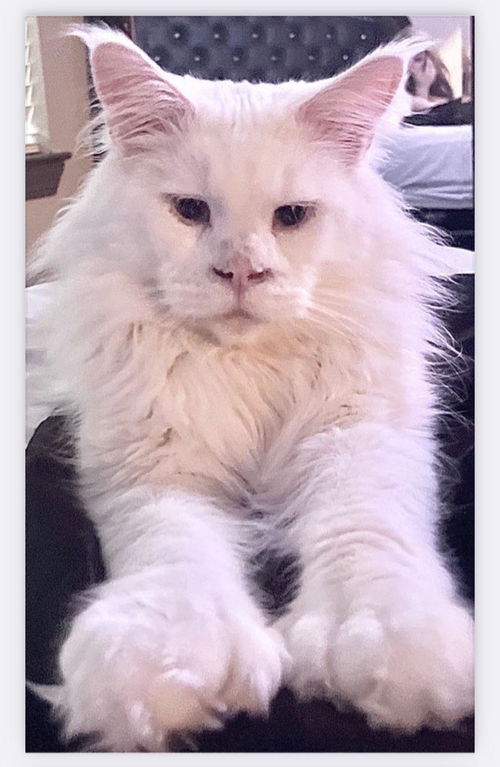 GA- King Louie (MCR)
My name is Nancy C. and we have had the most heartbreaking year. In three short months, we lost four of our beloved pets. First, we lost our elder Beagle, Betty, then one month later, our beloved Cavalier King Charles Spaniel, Ivy, to CHF. We had a break for less than three months before we lost both our elder Maine Coons, Lacey, and Christian just sixteen days apart. One week after losing our massive Christian, I was awake at night crying and grieving because he slept with me every night. He was the only thing I had left to sleep with me in bed. As I laid there, a received a middle of the night text message from a friend who saw 14-month-old King Louis (rescued from a breeder) at your rescue, and he was up for adoption. I quickly completed the application knowing that there would be hundreds of worthy applicants. I shared my story with you all and soon thereafter, I received the call that I was being considered.
We were told he had some aggression issues because of his past, was quite a handful, needed to put some weight on, could only be in a one cat home, and was even aggressive towards dogs. Knowing my experience with Maine Coons and animals in general, I knew he would do fine with us and even with our large dogs… our 2-year-old German Shepherd, Maddie, and our 2.5-year-old English Crème Retriever, Luca, both of whom grew up with cats.
We were ultimately selected to be King Louis new family and from the moment we let him out of his carrier, we knew all would be fine. He adjusted and settled in extremely fast and far ahead of any projected schedule. Larger dogs seemed to be what he needed, and he quickly bonded to them so much so, we believe he thinks he's one of the pack. Now, he jumps on them, and grabs them as they pass by and he and Maddie love to chase each other around the kitchen island. Funniest thing I've ever seen in such an unlikely duo.
He hates to be alone. He tries to trip us walking to the door so we cannot leave. He yells at us when we return (screams at us), loves to tell us about his day, follows us absolutely everywhere, and expects to be the center of attention in any room at all times (well, of course, he is!). We entertain a lot of company, and he is the first to greet everyone with his chatter, butterfly sounds, and leg spinning demands for head and back rubs. Every person who meets him agrees he is by far the sweetest, most outgoing, and has the most personality of any cat they have ever known. Add to it all, he's quite the showstopper with his polydactyl self, stunning blue eyes, and massive presence. Truly one of a kind.
We bought him a harness and he enjoys daily walks, especially down to the beach and the docks where we live on Lake Hartwell. We had a large, enclosed cat pen made and he loves the sights and smells as we play in the yard with the dogs, and he watches perched like the king he is. Too, we have an outside feral kitty… aptly named "Kitty" that he enjoys chatting to and spending time with on his walkabouts.
He has grown even more, and as most Maine Coons do, will continue to grow for a while longer, has put on a ton of weight and that is no surprise… he eats more than any cat I have ever seen.
King Louis has been such a blessing and a source of comfort; his timing could not be more perfect, and we are as lucky to have him as we believe he is to have found us. Most importantly, I have something once again to snuggle with every night. My better half, Tommy, is completely in love with King Louis and often says, "We hit the jackpot with this one!".
Thank you to everyone at Maine Coon Rescue for your wonderful work with these precious souls in need, for matching them with the right families, and a special thanks to Amy, his foster mom, that so unselfishly prepared and loved him until it was time for him to go to his forever home.
Click a letter to find an animal or
view all
.